HALF MARATHON OF LOVE 2023 LESVOS - REGIONAL OFF-ROAD RACES OF PUBLIC ROAD
2/22/2023 1:11:00 PM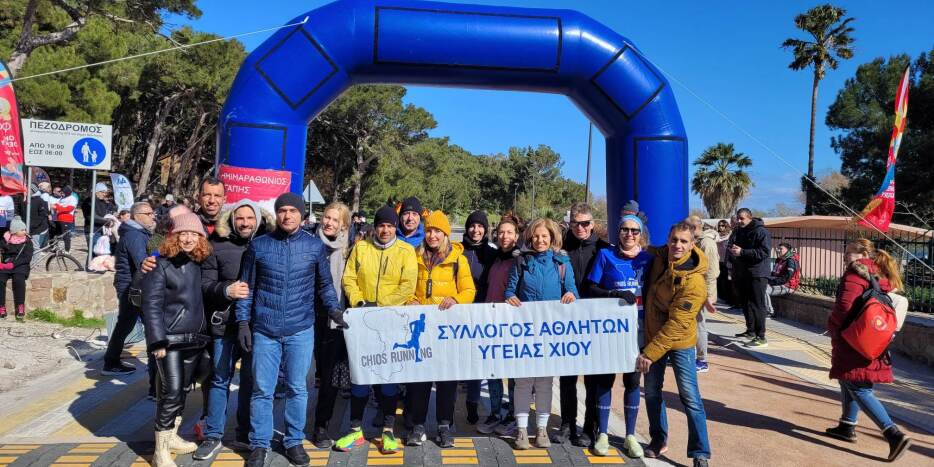 The association "En Gnosi" successfully organized the Half Marathon of Love on the weekend of February 12-13. As part of the weekend events, the races of 10,000m,
5,000m, 2,000m, and 1,000m took place,with participants of all ages, including people with disabilities.
The event was supported by the Region of North Aegean, the Municipality of Mytilene, the Achida Association, and the Lesvos Runners. A total of 170 athletes from all over Greece participated.
The Chiosrunning Health Athletes Association of Chios took part with the following members:
Women's 5 km Race
MARIA MONIODI
ANNA GALATOULA
CHRYSOULA NEAMONITI


ANNA GALATOULA
ARIETTA PODARA
DESPINA ATSALI
CHRYSOULA NEAMONITI

Women's Half Marathon (21.1 km)
MARIA MONIOTI
LILIA KOROLJ
KATERINA TSOUHLI
SMARAGDA PALIOU

Men's 5 km Race
SAVAS SPANOUDIS
NIKETAS NTATIS
PANAGIOTIS SITARAS


Men's 10 km Race
CHARALAMPOS IATROUDELLIS
NIKOS SITARENIS PANAGIOTIS SITARAS
GIORGOS PATERIMOS
KONSTANTINOS XYNTARIS
Men's Half Marathon (21.1 km)
GIORGOS IATROUDELLIS SAVAS SPANOUDIS MANOLIS
DIAMANTAS NIKETAS NTATIS
GIANNIS AVGERINOS
PANTELIS STROUMPIS

We would like to thank the "En Gnosi" Association and the Lesvos Runners for their wonderful hospitality. Blue Star Ferries and Hellenic Seaways Official Fan Page have always been sponsors of our athletes' transportation. Thank you very much.
EAΣ SEGAS Chios-Samos, in collaboration with the Municipality of Chios, organized the regional off-road and public road race on Sunday, February 12, 2023, with a total of 300 participants, including children and adults.
The starting point and finish line were at the Chios Port Authority. Chiosrunning Health Athletes Association participated with the following members: Men's 9 km Race GIANNAKOS PANAGIOTIS

Congratulations to everyone and wishing you a quick recovery.
Μοιράσου το με τους φίλους σου