The Wonderfull Technical T-Shirt of the 11th Chios Half Marathon
7/13/2023 11:51:00 AM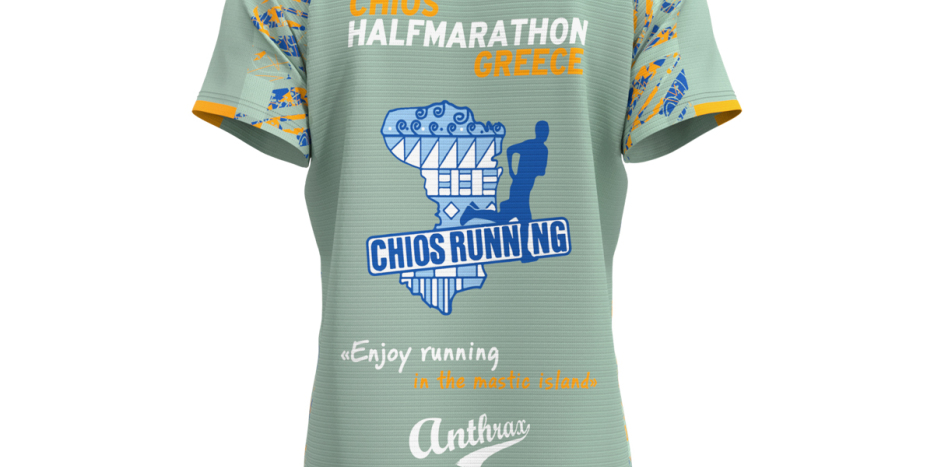 REGISTER NOW FOR THE 11th CHIOS HALF MARATHON AND PARALLEL RACES 1.5km A.M.E.A. - 1.5km (Kids) - 5km - 10.5km.
Secure your spot in the race and receive a fantastic technical t-shirt offered by Anthrax Machines Sportswear. Along with that, you'll get your BIB number with your name and the club's logo, as well as a rich package of benefits and gifts from local products.
JOIN US FOR A UNIQUE EXPERIENCE ON THE ISLAND OF MASTIC, ALONGSIDE OUR CHAMPIONS!!
Race registrations are open until Sunday, August 20, 2023. REGISTER NOW: https://www.chiosrunning.gr/imimarathonios-hiou/
FERRY TICKETS
40% discount on ferry tickets for the period 21-31/08/2023 from our Major Sponsor, Blue Star Ferries, and Hellenic Seaways Official Fan Page, for our runners. For reservations and ticket issuance, please contact Michalakis Travel in Chios, phone: 22710-40070, or Giovanti Travel Ltd. in Piraeus, phone: 210-4119313, or SEAWAYS MILIADIS MARITIME AGENCY in Kavala, phone: 2510-230538.

Also, a 30% discount on ferry tickets for athletes traveling on the Chios - Cesme route and return for the period 24/8 – 28/08/2023, provided by Sunrise Tours / Chios - GREECE, the sponsor of the event. For reservations and ticket issuance, please contact directly Sunrise Tours in Chios, phone: (+30) 22710 41390, email: info@sunrisetours.gr

Fegoudakis Hotels & Resorts Group, a Major Supporter and sponsor, has been supporting the event for years and offers unbeatable prices at its hotels for all participants of the 11th Chios Half Marathon. The offer is valid for the period: 22/08/23 to 03/09/23
Participating hotels are as follows:

Sea View Resorts & Spa Hotel, Chios, Greece
Single room 75.00€ + 3.00€ accommodation tax
Double room 82.00€ + 3.00€ accommodation tax
Superior studio with sea view 92.00€ + 3.00€ accommodation tax
Premium Apartment with sea view 110.00€ + 3.00€ accommodation tax
Grecian Castle Hotel,
Chios Double room 85.00€ + 3.00€ accommodation tax
Single room 77.00€ + 3.00€ accommodation tax
Golden Sand Hotel
Double room with sea view 90.00€ + 3.00€ accommodation tax
Single room 82.00€ + 3.00€ accommodation tax
Take part in a unique running festival. See you all in the beautiful Kampos Chios on August 27, 2023, for an unforgettable race in the traditional Kampos of Chios.

MAJOR SPONSORS
Δήμος Χίου
Περιφέρεια Βορείου Αιγαίου- Region of North Aegean
Blue Star Ferries
Hellenic Seaways Official Fan Page
Anthrax Machines
Επιμελητήριο Χίου Chios Chamber of Commerce Epimelitirio
New Balance
FaGi Consulting Group
Citrus Άρωμα Μνήμης
Cosmos Sport
mastihashop
Κάμπος Χίου
Chios Beer - Φρέσκια Μπύρα Χίου
Ζαχαροπλαστείο Μονιωδη Zaxaroplasteio Moniodi
Άμπελος ΙΚΕ
Κανέλλος Λουκουμάδες
Bundaberg Ginger Beer
Melissa Kikizas
ATCOM
Maria Tsakos Foundation
Μοιράσου το με τους φίλους σου